Families First Coronavirus Response Act Notice – Frequently Asked Questions
#WorkforceWednesday: Coronavirus Tough Questions – Furloughs and Reductions, Unionized Workforces, Employee Benefits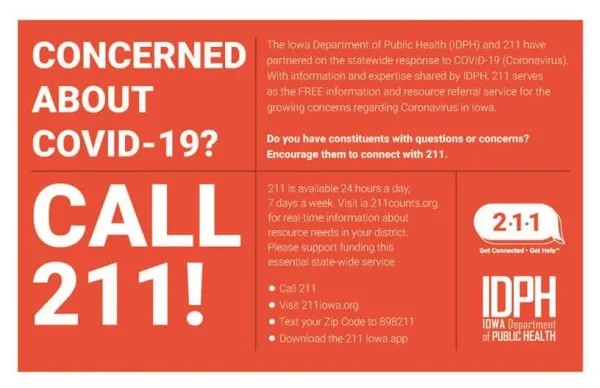 Workers have been hit hard by this crisis. Our economy is seeing many negative impacts and the media is quite focused on how the Dow Jones average is doing when we need them to focus on how workers are going to make it thru these difficult times.
Governor Reynolds and her administration are making some efforts to reduce the virus' spread and provide some relief to working people, but they can and should be doing more.  Our Legislature must follow up their initial work with actions to ensure working families who are directly and indirectly impacted continue to have the resources they need to do their jobs and support their families – leaving no worker behind.
We need to have the Governor and our legislature focus on matters that will make a difference. We need paid leave. We need childcare matters discussed and addressed. We need to have vote by mail enacted so our elections can take place in a timely fashion.
Our federal elected officials in the US House have been working to address this situation and took action last Friday.  We appreciate the actions taken by Representative Finkenauer, Loebsack, and Axne, showing how to lead in a crisis.  Representative King opposed this relief package.  The US Senate has followed suit, but we need to look at this issue in a longer-term way.
We have some links below for information on the COVID 19 situation. We urge you to take this situation seriously and act accordingly. Please keep an eye on our website and social media sites for regular updates as this emergency continues.
I doubt anyone anticipated the public health situation in which we now find ourselves immersed. The COVID-19 pandemic has working people on edge. Remember, we can, by working together, get through these tough times.
Ken Sagar, President, Iowa Federation of Labor AFL-CIO
Click here for several links dealing with the COVID-19 Crisis
Public health focus
The most important updates for Iowans will come from the Iowa Department of Public Health, which is the lead agency addressing the coronavirus outbreak.
Here are key IDPH resources on COVID-19:
A public hotline for Iowans with questions about COVID-19 is available 24/7 by calling 2-1-1 or 1-800-244-7431.
Find the latest from the Centers for Disease Control and Prevention at coronavirus.gov
Find your local public health agency at idph.iowa.gov/lphs/local-public-health-agencies
Covid-19 Info
AFL-CIO Resources   COVID-19 Pandemic Union Resources — AFL-CIO page: includes "resources and guidance from leading experts, government agencies and America's unions"
2020 IFL COVID-19 Legal Report
Public health focus
The most important updates for Iowans will come from the Iowa Department of Public Health, which is the lead agency addressing the coronavirus outbreak.
Here are key IDPH resources on COVID-19:
A public hotline for Iowans with questions about COVID-19 is available 24/7 by calling 2-1-1 or 1-800-244-7431.
Find the latest from the Centers for Disease Control and Prevention at coronavirus.gov
Find your local public health agency at idph.iowa.gov/lphs/local-public-health-agencies
Centers for Disease Control and Prevention
Iowa Department of Public Health
Work Related
NEW COVID-19 FACT SHEETS FOR IOWA WORKERS
"Your Workplace Rights When Dealing with COVID-19" is now available on the Labor Center web site.
This resource includes fact sheets in response to frequently asked questions about four COVID-19 related issues:
Health and safety: Are you and your coworkers safe at work?
Unemployment: Have you or your coworkers been laid off, had hours cut, or lost income due to coronavirus?
Leave and attendance: Can you or your coworkers stay home to follow health, quarantine, or childcare guidelines?
Paid leave: What will be covered in the new Families First Coronavirus Act?
You can click here to print the fact sheets or forward this email to share the information with those who need it.
For summaries of many other state and federal laws covering Iowa workplaces, the Labor Center's Iowa Worker Rights Manual remains available at these links:
You can contact us with further questions or suggestions at labor-center@uiowa.edu or 319-335-4145.
OSHA Guidelines for workplaces
Council for Occupational Health
Manual de los Derechos de l@s Trabajadorxs de Iowa (en Español)
When the Paycheck Stops – AFL-CIO guide to unemployment
If you have been laid off and need to file for unemployment benefits, click here.
How to apply for unemployment benefits (DSM Register)
https://www.desmoinesregister.com/story/money/business/2020/03/17/how-apply-iowa-unemployment-benefits-coronavirus/5068587002/
Changes to PERB operations due to COVID-19
If you are a small business owner looking to apply for an SBA Economic Injury Disaster Loan Program​, click here.
To find a food bank near you visit www.feedingamerica.org. 
Governor Reynolds announces assistance for employees and employers affected by COVID-19 related layoffs
DES MOINES – Governor Reynolds today announced assistance for workers and employers impacted by layoffs related to COVID-19.  The guidance includes information for employees filing for unemployment insurance claims, as well as information on programs available for employers.
"Iowa has incredible employers accommodating the needs of Iowans during the disruption caused by COVID-19," said Gov. Reynolds. "The state of Iowa is doing everything we can to ease the process and shorten the time it will take for Iowans to receive unemployment benefits. All of our state agencies continue to work as one team to lessen the impact COVID-19 will have on our economy and our people."   
"Iowa Workforce Development is taking steps to reduce the impact of these claims on employers who have had to temporarily lay off staff due to closures or slowdowns," said IWD Director BethTownsend. "IWD encourages all employers to utilize paid leave and telework options for employees before utilizing temporary layoffs.  Iowa Workforce Development will continue to monitor the situation, working with our stakeholders and updates will be released on our webpage."  
Unemployment insurance claims:
        If you are laid off due to COVID-19 or have to stay home to self-isolate, care for family members or due to illness related to COVID-19, you can receive unemployment benefits, provided you meet all other eligibility requirements.  Those requirements essentially include working for wages from an employer who claims you as an employee in six of the last eighteen months and have earned at least $2,500 in the same time period. More specific explanation of benefit eligibility can be found at: https://www.iowaworkforcedevelopment.gov/2019-unemployment-insurance-claimant-handbook
        Claimants can expect to receive payment within 7-10 days after the date the claim is filed.
        Claims that are filed and identified as a direct or indirect result of COVID-19, will not be charged to employers.  Fact-finding interviews for these claims will be waived and not be held although employers will be notified of claims received. 
        IWD will process unemployment insurance payments to ensure payment will continue to be paid in a timely manner. 
"The Iowa Workforce Development team is dedicated to providing assistance to employees and employers affected by COVID-19.  Please do not hesitate to contact myself or our team for assistance at 1-866-239-0843," said Director Townsend. 
For more information, visit www.IowaWorkforceDevelopment.gov Updates will be released as they become available.
Beware of Scams Related to Coronavirus
Scammers are taking advantage of fears surrounding the Coronavirus. They're setting up websites to sell bogus products, and using fake emails, texts, and social media posts as a ruse to take your money and get your personal information.
The emails and posts may be promoting awareness and prevention tips, and fake information about cases in your neighborhood. They also may be asking you to donate to victims, offering advice on unproven treatments, or contain malicious email attachments.
Here are some tips to help you keep the scammers at bay:
Want more information on the latest scams we're seeing? Sign up for our consumer alerts. If you come across any suspicious claims, report them to the FTC at ftc.gov/complaint.
Excerpted from the Des Moines Register: Facts and myths about the coronavirus As panic over the novel coronavirus rises, myths and misinformation have begun to circulate. Across social media and in communities that are starting to see their first cases, people have been wondering whether the flu has a higher mortality rate and if healthy people should stock up on masks. Health professionals and others have answered some of the most common questions people have been asking about the virus: ·       Can I still catch the coronavirus if I received a flu shot this year? Yes. Seasonal flu shots are important to protect yourself from the flu but are not effective against coronavirus. The flu and coronavirus are two different illness and the flu shot will not protect someone from coronavirus. ·       Will a face mask protect me from coronavirus? The general public does not need to wear masks. Those who are sick should wear masks to prevent germs from spreading to others. ·       Is the coronavirus deadlier than the flu? Yes. Research on the mortality rate of coronavirus is still ongoing, but the World Health Organization announced March 3 that estimates put the global rate at about 3.4%, compared to 0.1% for the flu. ·       Did the virus escape from a Chinese lab? No. The new coronavirus is not a bioweapon engineered by scientists in China. Early last month, bloggers began to circulate a theory on social media and other websites that the virus was man-made. Scientists are still researching how COVID-19 emerged but say it is not man-made. The first infection, reported in December 2019, was linked to a market in Wuhan, China. It's still unclear how transmission unfolded. ·       Does a coronavirus test cost $3,000? No, it's free. In actuality, the U.S. Food and Drug Administration has authorized the use of two tests — one from the Centers for Disease Control and Prevention and one from the New York State Department of Public Health — and neither agency charges patients for the test.FactCheck.org. ·       Do I need to go to the doctor if I have coronavirus symptoms, or can I just get better at home? If someone suspects they have coronavirus, they should consult with their doctor and public health professionals. Coronavirus has a range of symptoms and can be more dangerous to those with underlying conditions. People who suspect they have coronavirus should also call ahead before visiting the doctor so physicians can be prepared. ·       Will the coronavirus be gone by April? Nancy Messonnier, director of the CDC's National Center for Immunization and Respiratory Diseases, cast doubt on this rumor. "I'm happy to hope that it goes down as the weather warms up, but I think it's premature to assume that, and we're certainly not using that to sit back and expect it to go away." Like the common cold and flu, COVID-19 spreads through respiratory droplets, and most viral respiratory diseases have seasons. They spread more during the colder months, but you can still get sick from them during the warmer months, too. ·       Did coronavirus come from Corona beer? Funny, but no. ·       Will I be able to tell if someone has the coronavirus just by looking at them? People will not be able to immediately tell if someone has coronavirus. Symptoms initially present similar to the flu, and people should visit their doctors if they are concerned. ·       Can I catch coronavirus from or pass it on to my pets? The Centers for Disease Control and Prevention has not received any reports of pets or other animals contracting the coronavirus. There is also no evidence to support claims that animals can spread coronavirus to people. However, animals can spread other diseases to people so people should always make sure to wash their hands after being around animals. ·       Is coronavirus more contagious than the flu? Health officials are not sure yet how contagious coronavirus is. ·       If I get the coronavirus, will I have to be quarantined for at least two weeks? The time period for recovery will be evaluated on a case-by-case basis and might vary depending on the person.
Anxious or depressed over the pandemic?
The National Alliance on Mental Illness HelpLine is available Monday-Friday, 9 a.m. to 5 p.m. at (800) 950-6264.
Here are some tips to cope. For more, go to NAMI's guide in dealing with the pandemic:
Remember that knowledge is power. Understanding the factors that affect a person's immune response to COVID-19 will matter as much as, or more than, understanding the virus. People with poor lung health caused by smoking, lack of adequate health care, suppressed immune systems, and those who are particularly susceptible to infectious diseases, such as the elderly, have been particularly affected by COVID-19.
Don't accept everything you read or hear. Look beyond rhetoric and arm yourself with information. The U.S. Centers for Disease Control and Prevention provides information and frequent updates. To subscribe to the CDC's email and text message service, visit CDC Subscription Service.
Get your emotional support system in place. Maintain familiar routines as much as possible; take care of your basic needs and employ helpful coping strategies: rest during work or between shifts; eat healthy foods and engage in physical activity; and stay connected with others and maintain your social networks.
Take control and incorporate preventive measures: Wash your hands. Avoid watching, reading or listening to news reports that cause you to feel anxious or distressed. Instead, seek CDC updates and practical guidelines. Be supportive to others. Assisting others in their time of need can benefit the person receiving support as well as the helper.