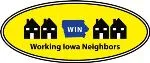 Cadidate Book 2017
WORKING IOWA NEIGHBORS in your neighborhood
The Iowa Federation of Labor, AFLCIO, established the WIN Program in 2011 to help make working families a priority for local and state elected officials. In the aftermath of the 2010 Election, members of the Iowa legislature went after education funding so they could instead hand out corporate property tax cuts and other tax giveaways to large profitable businesses. In subsequent years, we have seen these attacks increase and the state's budget suffer. This past legislative session, some members declared war on working families, passing legislation that rolls back decades of progress.
Workers, however, can come together to fight back against these attacks. WIN Committees have already been established in several locations around the state, and new ones are forming. WIN Committees focus on local elections such as city council, school board, and college trustee elections in odd years and county races in even years. WIN also works together to build a "farm team" of experienced candidates ready to run for higher office when the opportunity or need presents itself. Below is a list of places where WIN Committees are already active. Let us know if you want to set up a WIN Committee in your area.
Contact Ben Murry (Ben@IowaAFLCIO.org) for information.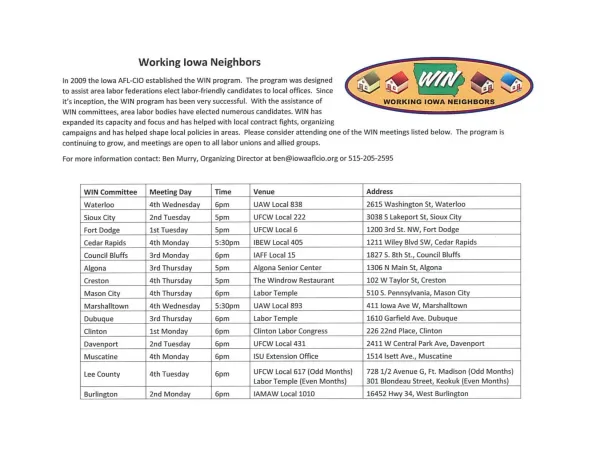 "The WIN Committee has been essential in the progressive gains made in Johnson County. These natural allies were always there, but we didn't really coordinate until the WIN Committee started meeting." Rod Sullivan, Johnson County Supervisor "Working with WIN helped me connect with others who care about working families and better understand how important local elections can be." Maria Dickmann, Davenport City Council